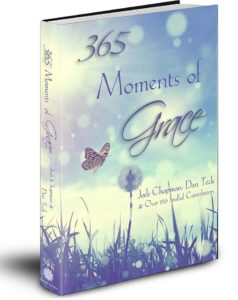 I'm so excited to announce the launch of 365 Moments of Grace!
This is volume 2 of the 365 Book Series, which my wife and I created in 2015 with the intention to inspire, uplift, and remind you of just how magical our world is and how connected we truly are.
This latest book contains true-life stories of grace, miracles, and transformations from beautiful souls all around the world. There's one grace-filled story for each day of the year from over 250 authors, including Jodi Chapman, Kristine Carlson, Arielle Ford…and me! 🙂
You can learn all about the book, pick up your own copy, and receive tons of bonus gifts at www.365momentsofgrace.com.
For now, I wanted to share my piece from the book. (Below the piece, I'll share a bit about why I wrote it and what it means to me. But I won't say anything about it yet — that might give away the ending!) Enjoy!
…
In the Garden
I opened my eyes and found myself sitting in a wondrous garden. Above me shone a brilliant, golden orb – too bright to look at directly but somehow gentle even in its immense power. It warmed my face and illuminated the breathtaking scene before me: a stunning explosion of colors, arranged in a way that surpassed the work of any human artist. Fairy-like creatures flew around me, their brightly colored wings shining in the light as they communicated with one another in their flute-like language of whimsical melodies. The entire garden danced with life. The air itself felt alive – caressing my skin in a way that simultaneously warmed and cooled me.
Feeling completely at peace with where I was and also eager to explore this paradisiacal setting, I stood up and took a few steps. The mossy surface cushioned my feet, yielding to me while supporting my entire being. As I looked around, I encountered hidden treasures that I hadn't noticed at first: tiny buds on the verge of bursting into bloom, subtle decorative touches, and near-invisible winged creatures dancing above and around me.
The most magnificent part of this garden, however, went far beyond sensory beauty: Although I was completely alone (aside from the winged creatures), I was able to communicate with others who weren't there in physical form. I became aware of their thoughts, emotions, and most meaningful experiences – "hearing" them almost as if they were communicating telepathically or describing it all in person, or as if I were living it along with them. They shared profound truths – stories occasionally touched by pain and heartbreak but ultimately leading to higher levels of grace and glory.
Their words and experiences were still swirling inside me when I encountered someone who seemed to be part human, part angel. She spoke just a few words to me, but I felt unconditionally accepted and cherished, filled with a love that I knew would last forever. With a heart filled with gratitude, I kissed my wife on the forehead, refilled my coffee, and went back out to the patio, where I continued to edit the latest batch of pieces for 365 Moments of Grace.
…
The Mini-Story Behind the Story
This piece comes from the "Everyday Grace" chapter, which I hope shows that our world is full of miracles…many of which may be closer than you think!
I had planned to write something different — something more "traditionally miraculous." As I read through the stories, however, I was so moved — and I experienced a true moment of grace sitting in my own backyard. In that moment, I realized that my experience, although very "mundane" in one sense, was every bit as amazing as many of the supernatural moments I was reading about. In many ways, it even reminded me of stories of near-death experiences in which people find themselves in a beautiful setting, surrounded by angelic beings, and imbued with feelings of peace and spiritual knowing. It reminded me that you don't have to die to go to Heaven!
I hope that you'll check out the entire book, that you'll enjoy the other 364 pieces, and — most of all — that you'll experience many moments of grace in your own life.
Learn more about the book at www.365momentsofgrace.com.
P.S. If you'd like to hear directly from some of the other contributing authors who are also writing about this book, you can check out their blogs:
(Click here to see a list of all the authors writing about their experiences with this book as part of our blog tour.)
P.P.S. LIMITED-TIME BONUS OFFER! If you order this book now, you'll receive lots of soulful bonus gifts – all created by the contributing authors – including guided meditations, ebooks, ecourses, and much more! Check it all out at www.365momentsofgrace.com.