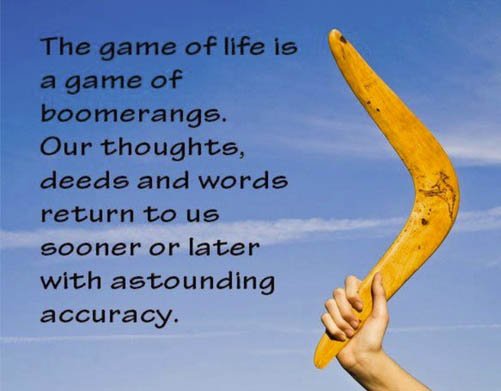 What comes to mind when you hear the word karma?
Do you think of mystical forces such as vibration, energy, or cosmic retribution? Do you think of karma in terms of reincarnation and rebirth? Or maybe (if you share my internal jukebox) you hear an inner medley of John Lennon's "Instant Karma," Culture Club's "Karma Chameleon," and Ratt's "Round and Round" (featuring the head-banging chorus of "What comes around goes around").
Whatever words you use (or songs you hear) when describing karma, it's generally considered a profound, esoteric principle. And yes, I have no doubt that mysterious forces beyond my comprehension are involved in this process.
But I also think that there's a mundane side of karma — a side that's utterly commonplace, simple, and straightforward. A side that's so obvious that it can be easy to miss!
This mundane side of karma doesn't show up when you're deep in prayer, meditation, or a bardo between incarnations. It shows up when you post on Facebook. It shows up when you're talking to strangers. It shows up when you comment on a blog (so, if you're thinking about it, be nice!). 🙂
It shows up in everyday thoughts, words, and actions…and the consequences they bring.
I've noticed this mundane side of karma in my business, especially while making decisions about potential partnerships. In one case, my wife and I were thinking of partnering with a woman who could've easily made tens of thousands of dollars from a joint business venture, year after year after year. But then she sent us a snippy email…and guess who we decided NOT to partner with!
(In this case, we also noticed the person frequently complaining publicly about money problems…which didn't surprise us one bit. Apparently, we weren't the only ones who shied away from partnerships with her.)
Another time, we read a Facebook post of someone badmouthing a current client/employer (which only made the poster look bad). In this case, even though the post had nothing to do with us, we knew that we would NEVER consider partnering with this person. If this was the way she treated her business partners, we wanted no part of it!
(Again, it made us wonder if the complaints were the result of her problems or the cause of them!)
On the other hand, the mundane side of karma also works in positive ways. We've often observed expressions of gratitude, unexpected kindness, or compliments — even if they're not directed at us — and we think, "Now THERE'S someone we really want to connect with!"
Sometimes we've been able to be the agents of positive karma — partnering with these good-hearted people. Other times, we're happy to recommend them to others. And sometimes we just feel good — for ourselves and also because we know that the other person is enjoying their own positive "instant karma" through the good feelings they get from sharing good feelings!
(And in these cases, not surprisingly, we tend to notice these people enjoying good fortune in their lives.)
And it's not just true in business. The mundane side of karma shows up in all aspects of everyday life, from romantic relationships right down to the kind of treatment you experience in the grocery store!
Just like gravity or the Law of Attraction, karma doesn't have an off switch! It doesn't stop working once you've finished meditating or saying your prayers! So be mindful of the kind of energy you're sending out into the world through your everyday interactions, remembering that it will make its way back around!
This doesn't mean that you always have to act like you're in a 24/7 job interview, censoring every word in order to present yourself in a favorable light. But you might want to reconsider before you vent in an email or complain on Facebook — and think about who you're really hurting.
On the other hand, you can be glad that the kindness you spread — online, in the grocery store, or anywhere else — not only feels good while you're sharing it, but will also find its way back to you! A cosmic win-win! 🙂
Using this universal principle to enrich your own life — as well as those around you — is a beautiful way to turn everyday experiences into expressions of grace.
And that's anything but mundane!