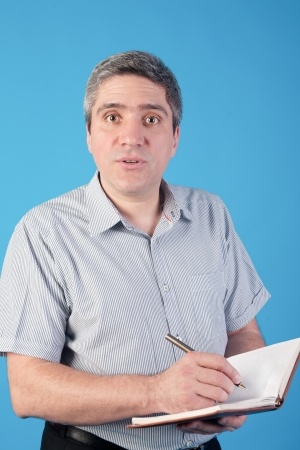 When I started looking into creative-writing programs, I got a book called The Creative Writing MFA Handbook.
It's a guide for people applying to MFA (Master of Fine Arts) programs, covering everything from choosing the best-fitting school and submitting your application, to making the most of the experience once you get there — especially during the workshops, which are at the heart of most writing programs.
The author's #1 piece of advice for being workshopped (i.e., having your piece critiqued by fellow students) is: Don't get defensive!
Aside from not criticizing readers' feedback (which harbors ill will and stifles honest discussion), he also discourages authors from explaining their work. (As an author, you aren't generally sitting next to your reader, telling them what you really meant — it's got to come across in the writing itself!) And most of all, he discourages workshopped authors from defending their work with one of student-authors' most common (and least relevant) lines of defense:
"BUT THAT'S WHAT REALLY HAPPENED!"
Once I got into workshops, I actually heard this rebuttal fairly often. And more than once, I had to stop myself from voicing this thought regarding my own work — because I realized (thanks largely to the MFA Handbook) that it doesn't matter one bit! Just because a story is 100% factual doesn't make it a good story!
This is true for fictionalized accounts of real-life experiences, as well as creative nonfiction. And perhaps most of all (and this is the whole point of writing about this in a personal-growth blog), this is true for the stories we tell in everyday life!
You might repeat an anecdote about an unpleasant encounter you had while shopping. You might spend hours griping about your mean boss. You might spend years rehashing tales of unfair treatment you experienced as a child. And all of these stories might be 100% true, yet none of them are good stories!
(By which I mean they're not good for YOU.)
In creative writing, a "good" story is one that engages the reader, reveals interesting aspects of life, and embodies artistic beauty/truth. But in everyday life, a good story is one that serves you! Or, to put it another way, it's a story that not only is true, but that you WANT to be true!
With this in mind, my advice for all of us is:
DON'T REPEAT STORIES THAT YOU DON'T WANT TO BE TRUE!
There is no surer way to reinforce and relive a negative experience than by telling and retelling stories about it — in conversations, online, and even (and perhaps most importantly of all) in your own thoughts.
It's like every time you tell the story, you increase the volume (or font size) — making it a bigger part of your life…and more likely that you'll have similar experiences in the future. And if the experience really was that unpleasant the first time, why would you want to relive it — in stories or in your life?
But then what are we supposed to do — lie?
No, you don't have to fabricate happy endings; nor do you need to ignore (or remain secretive about) the lower points of your daily ups and downs. But you can choose HOW you tell (and think about) the stories of your life.
And here's where the creative writer's bag of tricks can serve you well! Just like an author writing a piece of creative nonfiction, you get to choose which details to focus on, how you frame them, and what points you make with them.
For instance, if you're telling a story about your day at work, you could focus on the many pleasant interactions you had, or you could go on and on about the one person who was rude to you. Yes, that's what really happened. Yes, the story is true. But it's not a good story!
But even if you did decide to tell the story about the rude person, you (as the "author") get to set the tone. You could yell about it, cry about it, or laugh about it. You might even use one of my favorite techniques, "clarity through contrast," and use that one unpleasant interaction to reinforce your intention to treat others well, your expectation that your positivity will be returned to you, and your confidence that you're able to keep feeling good no matter how you're treated!
You might even frame an unpleasant incident as the "before" picture in an uplifting story — by having it inspire you to effect positive changes in your life and to live a more enjoyable story!
The key is this: Each time you tell (or even think of) a story — which can be anything from a lengthy anecdote to a one-line "truism" (or "falsism," such as "nobody really cares about me" or "everyone's struggling these days") — ask yourself these questions:
Do I WANT this story to be true?
Do I want this story to be true in the way that I'm telling it?
And if the answer to either of the two previous questions is "no," ask: How can I retell this story so that I DO want it to be true?
Or you might decide that the best option is to not tell this story at all!
After all, there are infinite stories that you can tell and live. Why not choose the ones that you actually like?
…
P.S. If you'd like to start telling new and better-for-you stories, click here to check out my Rewrite Your Story ecourse. It's available to everyone — and FREE to Soulful Life Sanctuary members!
(If you're not yet a member, click here to learn more about the sanctuary, which includes Rewrite Your Story and over a dozen other courses and classes, plus a vibrant, supportive community that lets you connect with like-minded souls — and reconnect with yourself! Also, now for the first time ever, month-to-month membership is available for just $19.95/month! Click here for details.)
You can take this course any time you'd like, but we're going through it as a group in the sanctuary right now (November and December) — including group forums, discussion questions, and an optional live video meeting — allowing us to discuss the course, interact with other students (and with me), and create new, more empowering stories! I hope to see you there!

Click here for more information and to sign up.
…
Photo by Yuri Bizgajmer