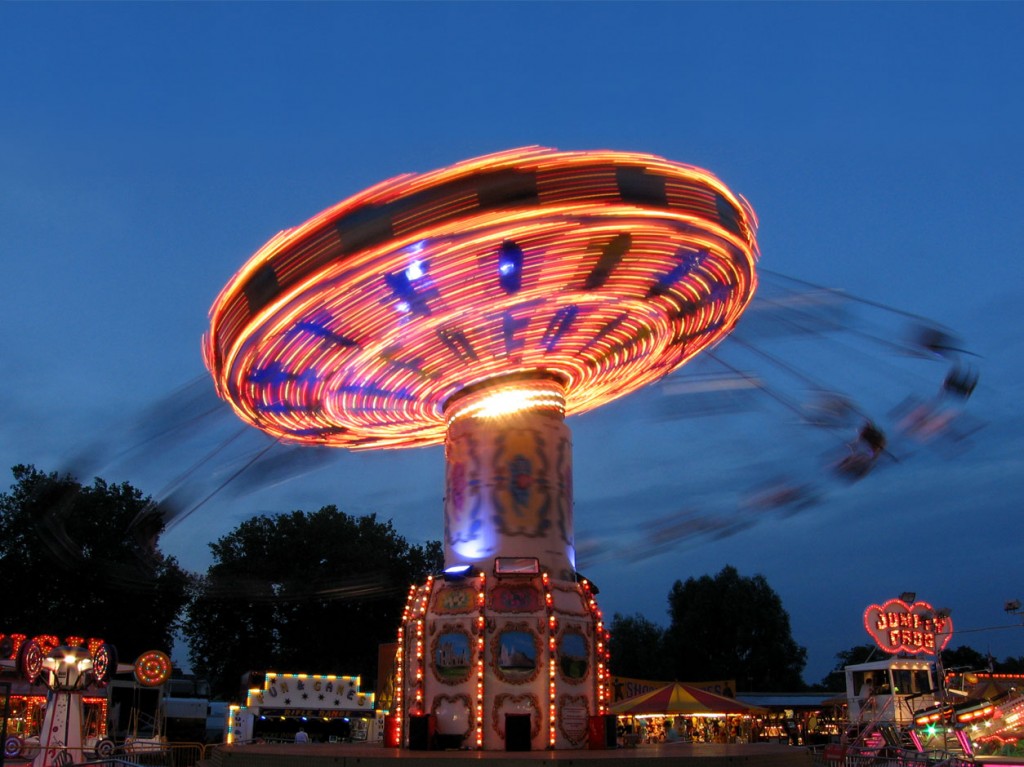 Have you ever been to a carnival where the carnies call out to you from their rides or games: "Step right up! Right this way! Two throws for a dollar!"?
Maybe they're trying to lure you over to the ring toss or some other game (that probably looks easy but is next to impossible to win). Or maybe they're trying to coax you into taking a ride on a roller coaster or a Ferris Wheel or the Tunnel of Love or the Haunted House.
Many of the games or rides might appeal to you. You might be very happy that the carnies got your attention and enticed you into riding the Bumper Boats or playing a game of Skeeball (even if you don't win the giant teddy bear).
Other games or rides might not appeal to you at all — or perhaps they actively repel you. For instance, if you know you that you have motion sickness, there's no carnie in the world who could convince you to get onto the Tilt-A-Whirl.
But you don't have to worry, because as you're walking through the carnival, the only one who gets to decide whether or not to go on a ride or play a game is YOU! No matter how loudly or persuasively the carnies might call out to you, they can't force you onto a ride you don't want to go on.
This is the same as the rest of your life: No one can force you into a "game" (or a "ride") without your consent.
People might catch your attention with their various offers (or suggestions or threats). They might yell or beg or cajole or pressure or plead, but only YOU get to decide what you want to do.
They can hold up all the hoops they want, but they can't force you to jump through them. They can yell, "Step right up!" — but that doesn't mean you have to!
This also holds true for your own thoughts!
Most people acknowledge that they don't have to play along with other people's games (or "dances" — hence the expression, "It takes two to tango"). And this is good to remember — especially when you're feeling pressured into something that doesn't feel right to you.
But it's even more important — and empowering — to remember that you don't have to follow your own thoughts!
After all, we each have over 50,000 thoughts per day — roughly one every second or two! Most of them merely flit through our minds momentarily, without us following the train of thought for very long (or at all) — like clouds that float briefly into and then back out of our peripheral vision, without us turning to follow them.
Thank goodness we DON'T follow every thought!
Can you imagine being pulled in a new direction every second or two? It would be like jumping onto every single ride at the carnival, just because a carnie called out to you about it!
Of course, just like the rides, there are many thoughts that we DO want to follow — flashes of inspiration, pleasing memories, or any subject that makes us feel good to think about. So we can choose to pay attention to these thoughts, explore them further, and enjoy the mental-emotional ride they take us on!
But there are many other thoughts that we DON'T want to follow up on — because, just like unpleasant carnival rides, we know how they make us feel.
If you've been on the Tilt-A-Whirl many times before — and every time you feel sick to your stomach (while you're on it and perhaps for a long time afterwards) — you might want to consider not getting on that ride again. You've been there, and you know it's just not worth going back.
But just because a carnie beckons (or pressures you or offers you a free ride) doesn't mean you have to get on the ride!
A carnie's call or a passing thought can't hurt you…unless you follow it!
You don't have to fear a carnie's call from a ride you dislike. You don't have to run over to them and yell, "Cancel! Cancel!" — or explain why you don't like the ride or try to get the carnival management to shut down the ride altogether. (After all, it might be someone else's favorite!)
You just have to NOT get on the ride!
Likewise, you don't have to worry about a fleeting negative thought. Sure, if you follow it, you might end up feeling like you've taken a ride on the Tilt-A-Whirl: spinning round and round, going nowhere, and ending up feeling sick to your stomach — and maybe even kicking yourself afterwards for falling into the same old predictable thought-pattern.
But you have another choice: You can learn from your past experience what thoughts do and don't feel good to "ride." And when you notice one that doesn't feel good, you can simply walk on by — just like you'd walk past a carnie calling out about a ride you don't like.
And eventually you'll find a ride or a game or a thought that you DO want to pursue. And then you can consciously choose to follow that call — and ride the Ferris Wheel or the Tunnel of Love or any other ride/thought that appeals to you.
Remember: You choose what to follow!
Just like the carnival, you can't choose what rides or games are there. You can't choose which carnies you hear calling out to you. You can't choose every thought that drifts through your mind. But you CAN choose which ones to follow — to "get on board" with and give your sustained attention to.
And that is your greatest source of strength, power, and freedom — the freedom to choose what you focus on, what activities you pursue, and which thoughts you follow (or don't). That's what makes your life your own. That's what makes you YOU!
And that's what can make your life as joyful as a day at the carnival.
…
If your thoughts were carnies calling out to you, which ones would you want to follow? Which thoughts would you want to "ride" — and which ones would you rather walk on past…and move on to something more appealing?