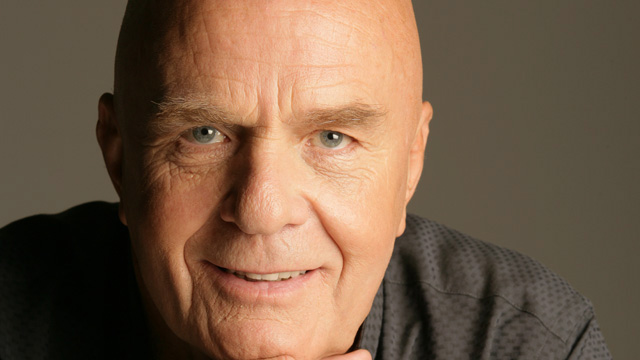 On August 30, the world learned of a profound loss: the passing of Wayne Dyer.
As one of the biggest, most influential, and most loved figures in the world of personal growth and spirituality, Dyer touched millions of people with his teachings. Over the past four decades, he wrote dozens of books and released numerous video and audio recordings. To summarize his life and teachings would fill many volumes (in fact, it has!). So, as a more succinct tribute to this great teacher, I've decided to pick three of his short quotes that inspire me.
"YOU DON'T GET WHAT YOU WANT, YOU GET WHAT YOU ARE."
Before I'd ever watched The Secret, heard the phrase "Law of Attraction," or studied Abraham-Hicks, I heard Dyer say these words, which seem to encapsulate these teachings — powerfully, eloquently, and concisely.
Yes, sometimes what you want is what you are: You want joy, and you are joyful. You want a healthy relationship, and you are in one. You want to be prosperous, and you are! When your desires match your state of being, life is good!
Many times, however, the two don't match up: People race around in a frantic attempt to find calm. Or they live with a scarcity mindset while bemoaning the fact that they don't attract abundance. Or they look for true love while exuding desperation…and wonder why Mr./Ms. Right doesn't waltz into their lives. The reason why their desires don't manifest is (as Dyer's words remind us): because that's simply not how it works!
The universe responds to your vibration (based on your thoughts, emotions, and state of being), delivering your energetic match. When you feel joyful, you attract more joy. When you are loving, you attract more love. (And so forth.)
In other words: you get what you are.
"YOU'LL SEE IT WHEN YOU BELIEVE IT."
Taken from the title of Dyer's 1989 book, this is one of my wife's all-time favorite quotes.
So often in life, we take the skeptical approach of "I'll believe it when I see it." We demand evidence! And sometimes this attitude is justified (such as when we're faced with a possibility that would defy all precedent).
The problem with this approach, however, is that beliefs tend to be self-fulfilling prophecies. So the very skepticism that demands evidence might be shutting the door on the evidence it supposedly seeks! But when you expect positive evidence to appear, even before you see it, visible manifestation tends to show up to justify your belief.
(Or, as Henry Ford put it, "Whether you think you can or think you can't, you're right.")
"I WON'T BE TAKING ANYTHING WITH ME."
A few days before his passing, Dyer posted these words on Facebook: "I have a suit in my closet with the pockets cut out. It's a reminder to me that I won't be taking anything with me. The last suit I wear won't need any pockets."
Perhaps on some level he knew of his imminent passing, or perhaps this was simply a reminder to all of us that life is not, ultimately, about accumulation but about our essence: divine love. (To quote his memorial Facebook banner: "We are not our bodies, our possessions, or our careers. Who we are is divine love, and that is infinite.")
Although it's particularly poignant in this context, this reminder applies to people at any stage in life. None of us will be taking anything with us, so we might as well give while we can, live while we can, and remember what's truly important — and who we truly are.
In announcing Dyer's passing, his family wrote: "He always said he couldn't wait for this next adventure to begin and had no fear of dying." I hope that he is enjoying his latest "adventure" and feels the gratitude felt by so many of us for the love and wisdom that are his lasting legacy.
…
What are your favorite quotes from Wayne Dyer? How has he touched your life? I'd love to hear any quotes, stories, thoughts, or comments that you'd like to share about this great teacher and his impact on you.