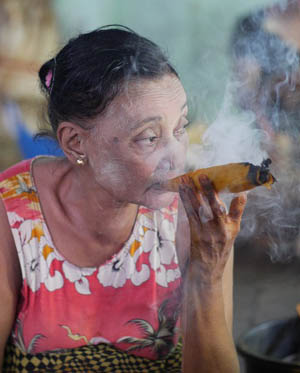 Unless I know you fairly well, I don't know what addictions you do or don't have. I don't know if you smoke, drink to excess, gamble compulsively, binge eat junk food, or bite your nails.
I also don't know if you have any positive addictions (or, if that feels too much like an oxymoron, we can just call them good habits). You might meditate every day, exercise, drink green smoothies, or do anything else on a regular basis that helps you feel better — and that, if you were to stop suddenly, would make you go through withdrawal (or at least feel kind of off).
Because I'm not psychic and I don't have a hidden camera in your house, I simply don't know your addictions…except for one:
YOUR THOUGHTS!
I know that you have addictive thought patterns!
I may not have access to the specific ones that come up again and again (compulsively and unbidden) for you, but I have a feeling that some of them revolve around feeling mad, sad, or scared.
Maybe your mind habitually gripes (about the government, your boss, your job, your relationship, your lack of a relationship, or whoever/whatever happens to be around).
Maybe your mind habitually turns to depressing situations (or melancholy memories, tragedies beyond your control, or anything else that brings you down or exacerbates your pre-existing sadness).
Maybe your mind habitually worries (about money, your family, or hypothetical worst-case scenarios).
Whether your habitual thoughts are anything like those mentioned above or completely different, they've probably become so common for you that you barely notice them. You might not think of these mental habits as addictions, but they are!
Recurring thought patterns are every bit as addictive as smoking or other addictive actions. And, like many addictions, you might engage in these thoughts compulsively, hardly realizing that you're doing it. And, also like many other addictions, you might keep on doing it even if it brings you no joy, satisfaction, or fulfillment — because that's just what you do (or think).
The Good News and the Bad News
I'll start with the bad news (which, don't worry, isn't really bad news — it just sounds like it): You will always have thought-addictions.
That's just part of being human and having a brain. You have thoughts every waking moment (except perhaps during moments of deep meditation), and most of them are habitual.
But here's the good news: The fact that the human mind seems to be addictive, by its very nature, can work to your advantage! Just like you can get addicted to healthy behaviors, you can get addicted to healthy thoughts! Here's how:
4 Steps to Healthy Thought-Addictions
Awareness. If you don't notice your chronic thoughts, there's little hope of changing them.
Ask: Is this thought serving me? (In other words: Does this thought make me feel better or worse?) Maybe you have uplifting thought-addictions that you don't want to stop — in which case, don't! But if a habitual thought makes you feel worse, you'll probably want to move to step 3…
Don't Eliminate…REDIRECT! Trying to stop an addictive thought is about as easy as stopping a speeding truck without brakes from rolling down a hill! You can't often stop your mind in its tracks, but you can redirect it to a different "road" — much like a brakeless truck might be steered into the "runaway truck" lane.
Be selfish enough to feel good! Place a high value on feeling good — and remember that feeling good (or bad, sad, mad, glad, or anything else) begins with your thoughts. Know that you are worth having a happy, healthy head!
Like any addiction, your addictive thoughts serve a purpose — most likely, providing some sort of comfort for you (if nothing else, through their familiarity). And as with many other addictions, you may even get a rush from replaying your mental scripts — much like you might get a sugar high from binge-eating junk food.
But just like all that junk food, negative thoughts aren't nourishing you — and they're keeping you from more nourishing fare. (To take this metaphor into somewhat disgusting territory: you can literally make yourself sick by binging on negative thoughts, regurgitating the same things over and over.)
Also, please don't judge yourself! Having negative addictive thoughts doesn't make you a bad person — any more than having the flu (or a drinking problem) does. It just means that you don't feel as good as you'd like to. And, like any form of recovery, the process takes time, so be easy on yourself, congratulate yourself for the positive steps you are taking, and know that your goal is a worthy one!
Ultimately, this process is between you and you.
When a sickness or an addiction is external, it's easy to spot — and to point out the benefits of recovery. Addictive thoughts, on the other hand, are less visible (although others can see the results of them), so it's really up to you to decide whether or not you want to keep or change the thoughts that keep swirling around your head on a daily basis. And that decision really comes down to this one simple question:
Do you want to feel better?
…
What are some of your thought-addictions? Do you find yourself replaying the same old worries, gripes, or dead-end inner dialogues? If you could replace some of your habitual thoughts with others, what self-nourishing thoughts would you prefer?