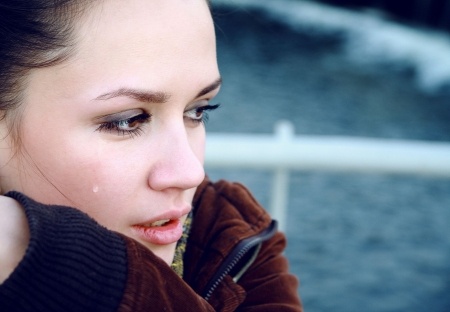 How many times have you heard this story?
Someone is living a more-or-less "normal" life…
Maybe things are going fairly well, or maybe they're not going so great. But basically, they're just going. Things are just kind of chugging along. Time is passing. And while their life isn't necessarily terrible (although it might be), they're certainly not living up to their potential. They're not fulfilling their life purpose. They're not living each moment with passion, joie de vivre, and personal/spiritual fulfillment.
But then…
The "unthinkable" happens. Everything changes in a heartbeat. Tragedy strikes.
It could take many different forms:
They get into a car accident.
They're diagnosed with cancer.
They lose a loved one.
They develop an addiction…and hit rock bottom.
Their partner leaves them.
They have a near-death experience.
In one form or another, they feel like the rug is pulled out from under them. And there's no going back to the way things were.
And while these tragedies are indeed tragedies, there's often an upside:
They start to turn their life around.
They stop taking life for granted.
They go after their dreams and live the life they know they're meant to live.
They realize and experience the holiness of life.
They appreciate each moment for the gift it is.
They're completely transformed.
And, perhaps for the first time ever, they start to truly live.
Yes, these stories are beautiful, amazing, awe-inspiring, moving, and motivational. (Or at least the endings are!)
And while no one would ever wish for a tragedy, the outcome is often so beautiful that they might not take back the experience even if they could.
But what if you didn't have to choose? What if you could have a happy ending without the tragic turning point? What if you didn't need a brush with death in order to fully live? What if you could transform from home…rather than from the hospital? What if you could wake up without the wake-up call?
Maybe it's because I just finished the Rewrite Your Story ecourse, but lately I've been thinking of life in terms of a story — not just writing but also editing your story! So when I hear a tale of triumph-from-tragedy, I can't help but think of how the story could be "edited" — how someone might be able to soar to great heights without first hitting rock bottom.
I think that it comes down to two things:
Conscious Living - Most of the stories boil down to this: Someone was living semi-consciously, but a tragedy caught their attention and made them live with heightened awareness…and passion, purpose, and zest for life.
Choice – Oftentimes, a traumatic experience (such as a near-death experience) doesn't seem to leave us much choice — it pretty much forces us to change the way we live! But perhaps voluntarily making this choice and this change could preempt the need for a tragic wake-up call.
It's almost as if the Universe says to us:
"I'm going to teach you some important lessons. We can either do this the easy way or the hard way."
And we often take the hard way — learning from the proverbial "brick in the head" rather than the soft whispers and gentle nudges. And while learning from the "brick" is better than not learning at all, I'd personally opt for the gentle nudge — heeding the "still, small voice" rather than waiting for a violent yell.
Now, just to clarify, none of this is meant to detract in any way from the dramatic, life-altering experiences that so many people have undergone. To be certain, they are powerful and profound. Nor do I mean to suggest that they brought tragedy upon themselves or were somehow "less than" in terms of consciousness or in any other way. Also, I fully acknowledge that lessons often come to us in exactly the form that will have the greatest impact on our lives — which may sometimes involve tragic circumstances.
So, rather than diminish the powerful experiences of those who have gone through life-altering tragedies, I hope to honor them — in part by learning from their hard-earned lessons and, hopefully, helping others avoid the suffering that they went through to gain those lessons!
So, how can we preempt tragedy…and still gain valuable life lessons?
One way is to learn from others. Take their stories to heart. Give thanks that they lived to tell of their experiences…and to share what they learned from them.
Another way is to imagine yourself at the end of a transformational story (the inspiring part, after the tragedy)! Imagine how your life might be different because of your experiences. Imagine what lessons you would have learned, how you see life differently, and how you live differently. You paid a heavy price, but you gained an invaluable lesson.
Then imagine that life gives you a reprieve: you get to choose to gain the lesson without paying the tragic price. And that's what you decide to do…right now! You decide to use this moment as a gentle wake-up call. You decide to learn from others' painful experiences in order to preempt unnecessary pain, suffering, or the regret that can come from a life not fully lived.
By doing this you're not just preempting tragedy, you're preempting regret! And you're beginning to live a fuller, richer, and more rewarding life than ever before! You're stepping into your purpose and living your dreams! And, perhaps best of all, you're doing this without a tragedy!
No, it might not make for such a dramatic story; but, hopefully, it will make for an incredibly fulfilling life!
…
How can you incorporate the lessons from transformational stories WITHOUT waiting for a tragedy? What can you do STARTING TODAY to live more fully, consciously, and appreciatively?
Thank you for taking the time to stop by and read this. I hope that it touched or inspired you in some way! If you enjoyed the post, feel free to share it — by clicking on the share buttons…or in any other way. Thanks!

…
Photo by frugo.