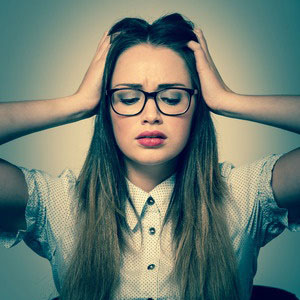 The biggest change in my life over the past few months is that now, unlike before, when I realize I've made a wrong turn, I don't keep driving down that road!
I'm not talking about literal wrong turns (although it's true for those as well).
I'm not talking about figurative wrong turns — actions that lead you someplace where you didn't want to go. (I've already written a post about that — and what to do when it happens.)
I'm talking about mental "wrong turns" — thought patterns that take you off your intended path…perhaps even into an inner "ditch."
It's not a big deal to have unintended thoughts. In fact, sometimes a train of thought can lead you into very interesting terrain, giving birth to ideas or perspectives you'd never considered — many of which may turn out to be breakthroughs, epiphanies, or just pleasant surprises.
Other times, however, you may find yourself habitually turning down inner roads that leave you stuck in the mud, spinning your wheels, and stranded a long way from your intended destination.
Again, it's not the end of the world to get temporarily stuck now and then. You take a walk, take a nap, call a friend (or a tow truck), shift your focus, and eventually get unstuck — and moving into more pleasant inner territory. And oftentimes, in retrospect you realize that the "wrong turn" ended up being a valuable learning experience.
The problem for me became when I found myself taking the same wrong turns again and again and again. And even after I recognized it ("Oh, here I am heading down this muddy backstreet again — in the opposite direction of where I want to go!"), I'd still keep on heading down the same road — thinking the same old thoughts, spinning my mental wheels, and getting covered with mud!
But recently I realized that I have a choice!
More than just realized it — I began making different mental choices. And although it took a little practice to change some deeply ingrained thought patterns, I now find that I can turn on a dime — and so can anyone! It just takes a few key elements:
Desire (part 1) – If you don't want to change your thought patterns, you won't. Simple as that.
Recognition – You start to notice recurring, unhealthy thoughts, just as you might recognize a road you'd accidentally turned onto many times. ("Oh yeah, there's that abandoned warehouse again — I'm definitely headed the wrong way!") In other words, recognize a familiar thought that you know is not serving you.
Remembering – From your past excursions, you remember where this mental road leads — and you know that it's not a place where you care to spend more of your time.
Redirection – Just as you can hit the brakes, turn the steering wheel, and make a U-turn in your car, you can also redirect your thoughts. And, as with driving, it's helpful to know where you do want to go!
Desire (part 2) – Just as this process starts with the desire to change your thoughts, it ends (or continues) by focusing on your desired thoughts and feelings — aligning your thoughts with your intentions, your dreams, and your soul. In short, you focus on your (very healthy!) desire to feel good!
In my case, I had a few habitual thought-patterns that I found myself stuck in so many times that I could no longer pretend that I was lost. In fact, I knew exactly where I was and exactly where these thoughts would lead: straight into the mental mud!
I also knew that these recurring thoughts were unproductive. I wasn't "solving" any problems — I was just spinning my wheels in the mud (and driving myself nuts!). And after 1000+ excursions into the same "thought-ditch," I couldn't kid myself that I was making any progress.
On top of this, the more I learned about the Law of Attraction (especially the fact that creation begins at the level of thought), the more I realized that I didn't want to keep manifesting experiences that matched these thoughts!
So, for the past few months, any time I recognized these "muddy roads," I'd simply mentally change the subject. I'd make a mental U-turn and head down a different road — one that I knew would lead somewhere healthier:
I'd focus on gratitude.
I'd focus on happy memories.
I'd focus on my dreams and positive intentions.
I'd focus on anything at all that felt better!
And it worked!
Simple as it may sound, I've been able to turn my thoughts around — and turn my life around — largely by hitting the brakes the moment I found myself on a mental "road" I didn't want to revisit. Before too long, the tendencies to turn down those roads dwindled to almost nothing. And instead, turning toward gratitude and positive thoughts became second-nature.
And thanks to Law of Attraction, I've noticed these changed thoughts reflected in my improved external reality. And yes, that is a nice perk, but it's not really why I made the shift. The real reason is much simpler:
It just feels better!
…
Do you ever find yourself stuck in unwanted, recurring thought patterns? Would you like to stop heading down those mental roads? If so, the next time you recognize one of those thoughts, simply hit the mental brakes and redirect your thoughts to something that feels better.
It might sound simplistic, but it works! Not only will you feel better in the moment, but your external life will start to reflect these positive new patterns.
Still not convinced? Why not give it a try? The only thing you have to lose is a bit of "mental mud"!
…
photo by Samo Trebizan