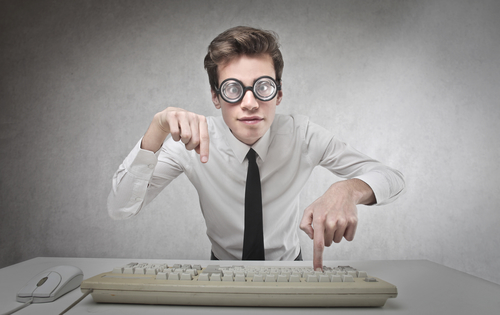 I like to think of myself as a reasonably intelligent guy, but today I did something that was just plain stupid. It didn't make any sense. It wasn't a good thing to do. And my timing was absolutely terrible.
In retrospect, I can see that it was stupid. What makes it even worse, though, is that I realized that it was stupid before I started doing it — and even while I was doing it — yet I kept on doing it anyway.
Just to set the scene: this is one of the busiest times of the year for me. I'm launching two major programs in the next few weeks. I have to prepare to teach a brand-new class two days from now, followed by a completely different brand-new class the day after that. I also have to finish a workbook and film an instructional video. Plus, I have to reply to several people via Facebook and email regarding setting up video conferences and one-on-one sessions about their own projects. And I haven't been getting a ton of sleep.
The good news is that I'm fairly organized; so when I walked into my office this morning, I knew exactly what I needed to do. What I actually did, however, was something completely different:
I wrote.
More specifically: I worked on my book — a passion project that's completely unrelated to my upcoming classes, launches, and video sessions.
I know, I know — it doesn't make any sense. With everything going on, the responsible thing would have been to get straight to work, going through each task in order of priority, based on how time-sensitive it is. Maybe if I had any extra time at the end of the day, I could have written. Or, better yet, simply relax, unwind, and recharge for the busy day I'll have tomorrow. That would've been the smart thing to do.
Like I said, I knew all this before I sat down to write. And as I flipped through my notes and typed the first few sentences, I realized that there was still time to turn back — there was still time to do the smart, logical, responsible thing and get right to the pressing business of the day. But instead, I did the stupid thing: I kept writing. And writing. And writing.
(And then, when I finally finished the section I was working on, instead of getting straight to work, I doubled down on the stupidity by writing this post!) 😜
Why would I do something so stupid? Am I just a dumb guy? Irresponsible? A flake? Although you might get different answers depending on who you ask, I like to think that this isn't the case. I think that what made me sit down to write (and keep writing for several hours) was a higher intelligence: call it the whispers of the soul, the heart, or my true self — but there was something urging me to follow that calling to write, no matter how little sense it made, no matter how unproductive it may have made me, no matter how "stupid" it may have been.
And what I found was that, rather than leaving me drained, depleted, scattered, or stressed, it energized me. It made me more focused and motivated to keep moving forward with my work tasks. It left me feeling satisfied, full, and happy. And above all, it just felt right.
Yes, taking time to write may have seemed stupid, but I'm glad I did it. And I'd do it again. (And hopefully, I will — again and again and again.)
…
How about you? Have you been called to do anything "soulfully stupid" lately? Something that your heart and soul is urging you to act on…even if your logical, practical mind doesn't think it makes sense? What would happen if for a little while today — even just for an hour or so — you gave yourself permission to be a bit "stupid"?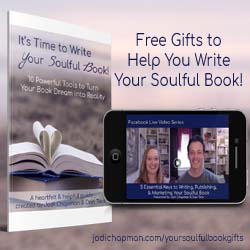 P.S. If you've ever thought about writing a book that inspires people, I hope you'll join me and Jodi for our Facebook Live video series, "5 Essential Keys to Writing, Publishing, and Marketing Your Soulful Book." It's completely free, and you can join us live or watch the replays any time you want.
Plus, when you sign up, you'll immediately receive our free supplementary guide, "It's Time to Write Your Soulful Book! 10 Powerful Tools to Turn Your Book Dream into Reality"!
Please click here for the schedule and the free workbook.
Hope to see you there! 🙂