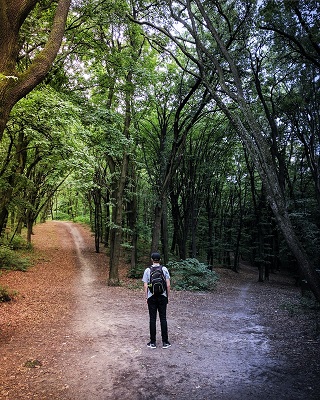 Since my last post (in February), it feels like the entire country — and, to some extent, the entire world — has changed.
First, COVID-19 hit. And spread. And spread even more (with no end in sight). Which has affected almost every part of our lives — from how we shop (online) to how we socialize (online) and how we do business (online).
And then George Floyd was murdered, sparking weeks of protests (with no end in sight). And that, too, has affected many parts of our lives — from how we address racism to how we live spiritually and express ourselves authentically.
Some parts of how I respond to this new reality are fairly clear to me: I know that I'll do everything in my power to avoid COVID. And I know that I'll take a stand against racism.
Other aspects of life, however, have not been as clear to me. For instance, over the past few months, I've been faced with a conundrum: How do I reconcile my desire to address (and redress) these problems with my belief in the Law of Attraction?
As you probably know, Law of Attraction (LOA) states that what you focus on expands, and I certainly don't want to expand (or "feed") a pandemic, systemic racism, or other problems. However, I'm also aware that saying/doing nothing can also contribute to problems — for instance, by implying tacit consent to racist remarks and policies, which I definitely don't want to do either!
So, what's an LOA practitioner to do?
For a long time, I was torn, unsure of where to put my attention, and undecided about whether or not I should focus on these situations at all. But all the while, my soul was screaming out against the injustice, the tragedies, the horror — and I knew that silence was no longer an option…with or without LOA's blessing.
Fortunately, though, I realized that there is absolutely no contradiction between LOA and taking a stand against racism. In fact, LOA (especially as it's presented by Abraham-Hicks) provides a blueprint for addressing racism and other undesirable aspects of life, which can be summarized in one sentence:
"When you know what you don't want, it helps you know what you do want."
I must have heard this sentence a thousand times or more. (In fact, nearly every Abraham-Hicks workshop begins with these words!) Yet it never hit me as forcefully as it has in the past few weeks, when I've known more clearly than ever what I don't want, including racism, police brutality, and systemic oppression. And yes, this has helped me know more clearly than ever what I do want, including equality, justice, and mutual upliftment.
This stark contrast has provided clarity and a ton of passion — two ingredients that are essential for change. And while focusing on undesirable situations doesn't feel good, it does "launch rockets of desire" (as Abraham puts it), which is how change begins. So, as much as I might want to stifle or ignore unpleasant feelings, I know that allowing them to surface, flow, and be expressed adds "rocket fuel" and helps to effect the change I so passionately desire.
Or, to put it another way:
"Let a Step-1 moment be a Step-1 moment."
(In case this doesn't make sense to you, let me explain this bit of LOA jargon…)
In the Abraham-Hicks system, the three steps of manifestation are:
Ask – We can do this directly (via positive thoughts, words, and actions) or indirectly (via clarity through contrast — namely, knowing what you don't want).
It Is Given – The universe provides the answer to our asking.
Allow – We receive the gift/manifestation into our experience (by not resisting it).
While the whole process can be joyful, oftentimes it isn't. To put it bluntly: Step 1 can really suck!
I mean, who wants to experience things that contrast with what you want? Who wants to experience pain, frustration, or anger? Presumably, no one. Yes, it does ease the suffering a bit to know that this is just the first step in a process that leads to something better. But that doesn't mean we can just skip straight to that "something better" — Step 1 has got to come before Steps 2 and 3.
So, instead of resisting my "Step-1 moment," I'm allowing it to flow. I'm letting myself feel all the pain, rage, and outrage at the situation. And I'm asking for what I want by clearly expressing my feelings about what I don't want — even when (or especially when) those feelings are negative. Even when I'm appalled, horrified, and sickened by what I see. And right now, I'm sickened by so much of what I see. For starters…
I'm sickened by police brutality.
I'm sickened by racism.
I'm sickened by racists.
I'm sickened by those who deny the existence of racism.
I'm sickened by monuments that glorify racism (e.g., Confederate statues).
I'm sickened by those who enable racism.
I'm sickened by those who enable those who enable racism.
I'm sickened by people in leadership positions who fail to condemn racism.
I'm sickened by people in leadership positions who fail to condemn racists.
I'm sickened by people in leadership positions who fan the flames of racism.
I'm sickened by people in leadership positions who attained their positions largely by fanning the flames of racism (e.g., through birtherism, dog whistles, defense of Nazis, support of the KKK, stoking anti-Mexican sentiment, xenophobia, Islamophobia, calling for the death penalty against the Central Park Five…even after, years into their sentences, they were proven innocent).
So, yes, I'm having a Step-1 moment. And no, I'm not going to apologize for it, stifle it, or try to skip it altogether. I'm going to allow it. I'm going to let it flow. I'm going to let it launch many powerful rockets of desire — rockets that I know will someday land in a better place.
Of course I'd like to fast-forward to that better place right now. But I know that's not possible — or even desirable in the long run. To return to Abraham-Hicks once more: I once saw them tell a man that it's actually helpful to spend time "outside the vortex" — namely, not basking in pure, positive energy — because the contrasts (the Step-1 moments) are what bring about long-term positive change. When the man pressed them for a number, they reluctantly suggested spending 20% of our time outside the vortex — enough to experience the contrasts and launch the rockets, but not so much that the negativity becomes all consuming.
So, yes, I hope to "80/20" my life in the long run — to spend more and more time focusing on what I love and appreciate, the things that I want to feed, expand, share, and experience more and more of throughout my life. Fortunately, there are so many people and things that already fit this description. And I'm sure I will experience many more of them in my remaining years on this earth. And I eagerly await the time when I'm re-immersed in this vortex of goodness rather than "beating the drum" of what I don't want.
But that's not where I am right now. I'm not at Step 3; I'm at Step 1. And that's okay.
And I know that this is where so many of us are right now. And that's okay, too. It's a necessary step — sort of like an emetic for someone who has swallowed poison. And right now, there is poison inside our country, and we need to puke it out.
Only then can true healing begin.
…
P.S. Thank you to everyone who's already offered your support and encouragement of just causes — through our connections on Facebook and elsewhere, and in ways that have nothing to do with me. You give me the courage to speak my truth even when it's uncomfortable — and to launch rockets of desire that I believe will ultimately help us all. And for those people who are offended by my condemnation of racism and racists, perhaps this is a good time for the Law of Attraction to work its magic by allowing you to move away from what's no longer an energetic match (i.e., unsubscribe). At this point, losing a few subscribers is far less important to me than speaking my authentic truth and standing up for what I believe.
P.P.S. I also have zero interest in debating this issue (less than zero, actually — kind of like I have no interest in debating the "pros" & cons of Nazism). So if you feel the urge to do so, please look elsewhere (again: unsubscribe).
P.P.P.S. For everyone who's still here, thank you again. Keep launching your own powerful rockets! We'll get through this together — united in the spirit of goodness and love — knowing that, in the words of Sam Cooke, "a change is gonna come."
…
Photo by Vladislav Babienko