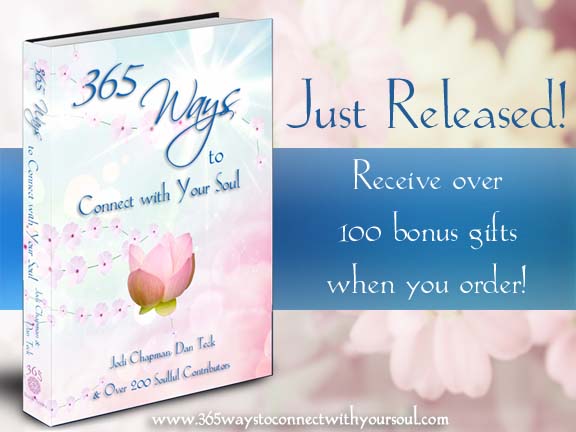 TODAY'S THE BIG DAY!
Back in April, my wife, Jodi Chapman, and I got the idea to create a collaborative book. Now, after over seven months of planning, preparation, writing, editing, connecting, and behind-the-scenes work, this brand-new book has been "born" into the world! So, it is with great pride and joy that I introduce…
365 WAYS TO CONNECT WITH YOUR SOUL!
This special book is filled with over 400 pages of soulful practices, offering one tip for each day of the year from over 200 contributors — including me, Jodi, bestselling authors Arielle Ford, Peggy McColl, Christy Whitman, and many others — from all around the world and all walks of life. These writers all came together to share how they connect with their soul with the hopes that it will help you connect with yours as well…in ways that are easy and fun!
The pieces in the book cover a wide array of topics, divided into 10 chapters:
Soulful Practices
Gratitude, Love, & Prayer
Nature & Animals
Playing & Having Fun
Wellness & Self-Care
Creativity & Writing
Meditation
Angels, Spirit Guides, & the Ethereal
Thoughts, Feelings, & Our Vibrations
Following Our Purpose & Passion
As a proud "book-parent" I love so many things about this wonderful book. I also have to acknowledge that this is not something that Jodi and I could have created on our own — it truly did take a "village," which is one of the aspects I love the most. Because it includes hundreds of tips from hundreds of authors, it goes far beyond what any single perspective could offer — so, hopefully, everyone will find something that speaks to them. Our vision is to share all of the authors' wonderful tips, tools, and techniques; and, most importantly, help you connect with your soul!
Here are the links where you can learn more about the book and pick up your copy:
Amazon – When you pick up the book through Amazon, you'll not only get this amazing book (all bias aside) 🙂 but you'll also gain access to over 100 bonus gifts — including meditations, ebooks, courses, and more — all contributed by the authors!
365WaystoConnectWithYourSoul.com – Where you can meet the contributors, preview the bonus gifts (and claim them, after you buy the book), read a couple pieces from the collection (including my own, "The Gratitude Game"), and learn more about the book.
Thank you again to everyone who has helped to make this dream a reality — and to everyone around the world who values connecting with their own soul. (Yes, this includes YOU!) 🙂
Click here to learn more about this book, the authors, the bonus gifts, and how you can pick up your own copy of this special, soulful book.

P.S. It also makes a great holiday gift for friends, family…or yourself! 😉
P.P.S. Check out some of the other great authors who have shared about it on their blogs:
P.P.P.S. Please feel free to help us spread the word about the book (by posting on social-media or in any way you'd like). To make it super easy to share, here's a sample tweet (which you can copy/paste as is or use as a model for your own personalized version):
How do YOU connect with your soul? This new book has 365 ways! Order now & get over 100 soulful gifts! http://goo.gl/fC0FuT #365soulbook