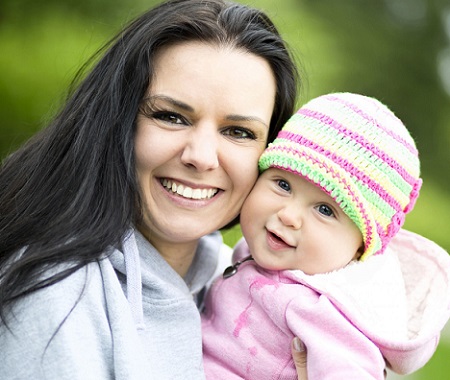 The stories in our new book, Goodness Abounds, follow two basic guidelines:
They have to be true stories about goodness.
The "good-doer" has to be someone other than the author.
Because of guideline #2, these stories aren't about authors "tooting their own horn" (which is fine in many contexts — but that simply isn't the focus of this book). Sometimes, though, even while they were shining a spotlight on other people's goodness, I couldn't help but admire the authors themselves. This was definitely the case with Jerri Eddington's story, "The Baby and the Bus Driver."
In this piece, Jerri pays tribute to a bus driver who was particularly kind to her when she was a 19-year-old mother, traveling with her 10-day-old baby. She also expresses gratitude for her own mother, who babysat so Jerri could finish her university courses.
For those of you who are planning on reading this piece, I won't give away any more "spoilers" — but I do want to talk about something that's not the focus of the piece: Jerri's dedication and perseverance in the face of challenges.
Yes, I was definitely moved by the account of Jerri's mother and her bus driver, both of whom went out of their way to extend kindness and consideration while Jerri juggled motherhood, school, and the rest of her life. But I was even more inspired by the behind-the-scenes glimpse into Jerri's past.
I've known Jerri for several years now, so I know she's quite accomplished: After a 30-year career as a teacher and middle school principal, she became a bestselling author, healer, and Soul Success Coach who's created programs and services to help people "lighten up and thrive." She's also a kind, caring, and wonderful human being.
But until reading her story, I never knew that her path to getting her bachelor's degree (and later, her doctorate) and becoming a teacher (and later, principal) involved catching a 6:33 a.m. bus with her 10-day-old baby so that she could travel across town, drop her baby off with her mother, then turn around and take another bus to school in time for the 8:30 class that was required in order to qualify for student teaching.
Talk about dedication!
I have to remind myself that she was just a teenager then! It would have been so easy for her to throw her hands up in surrender, to give up her dream of becoming a teacher, or to simply delay it indefinitely (or at least until her own child was in school). And that would have been fine. She had a perfectly valid and true excuse.
But she didn't want an excuse; she wanted an education. She wanted a career. She wanted to fulfill her dream.
And she did.
What a great example she set for her child. And what an inspiration she is to everyone who knows her or even just reads her story!
Even if your goals and dreams are very different from Jerri's, isn't it good to know that even major obstacles (such as needing to get up before sunrise to take care of a newborn, riding the bus for almost four hours per day, and taking a full load of university courses) doesn't need to derail your dreams. And isn't it good to know that when you pursue noble dreams wholeheartedly, good people will arise to support you every step (and every bus ride) along the way!
…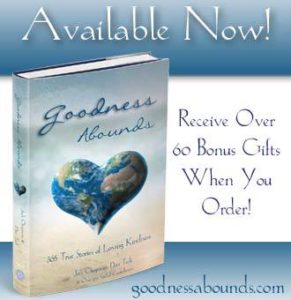 P.S. If you'd like to read Jerri's entire piece — as well as 364 other true stories of loving kindness — please visit www.goodnessabounds.com to learn all about our new book and the 60+ bonus gifts you'll receive if you order now.
Also, if you'd like to read more by authors on our blog tour, you can check out these posts from yesterday and today (and come back tomorrow for the ones scheduled for 11/16):