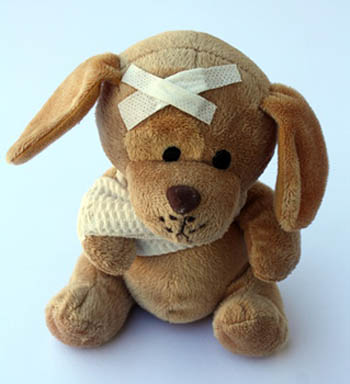 Imagine that you know someone who has injured their arm. You ask them if it hurts, and they say, "Only when I do THIS…" and proceed to lift their arm as high as they can (wincing in pain as they do so).
What would you say to them? Most likely, "Well then DON'T DO THAT!"
It seems like an obvious solution to a rather silly scenario, but this actually happens fairly often. (In fact, I think I've even done it myself — stretching a hurt arm or leg to see how far I could push it until the pain returned.)
In a way, this makes sense: you might want to test an old injury to see if you can go beyond your previous limitations — to push past your old comfort zone. The part that doesn't make sense, however, is repeating the action when you ALREADY KNOW that it makes you hurt — demonstrating it for others or just repeating it for yourself, reinforcing your knowledge…and your pain!
This doesn't just hold true for physical injuries. How often do we keep doing the same things, thinking the same thoughts, and putting ourselves into the same situations that have repeatedly caused us pain (in any respect)?
Sometimes we might (nonsensically) expect or wish for different results, but more often than not — just like the person demonstrating their injury by lifting their arm — we know exactly what's going to happen: it's going to hurt!
When we catch ourselves in this type of situation, we have a few options:
We could complain about the pain — grumbling about it to ourselves or anyone who'll listen.
We could make jokes about it (but still focus on it, talk about it, reinforce it, and re-experience it on a regular basis).
We could try to ignore it, tough it out, and stoically push through the pain.
Or we could take the same advice we might give to the person repeatedly lifting their injured arm: Don't do that!
While every situation is different, I generally support this last option: Stop doing what hurts you — physically, mentally, emotionally, or spiritually!
Stop lifting your arm in a way that hurts!
Stop thinking that thought that depresses you!
Stop hanging out with those people who don't respect you!
Stop telling that self-fulfilling story of why you'll never succeed!
Stop thinking, saying, and doing the things that hold you back, keep you down, dampen your spirit, crush your soul, or hurt you in any other way!
While this might sound like a negative approach to healing, it's actually based on the incredibly positive premise that, at our core, people are naturally healthy and joyful. It's also based on the fundamental truth that the human body and spirit are incredibly resilient!
In many areas of life, the healing process is natural and spontaneous — and generally requires little or no effort on our part! This means that, more often than not, we can heal simply by NOT repeatedly thinking, saying, and doing the things that hurt us. When we stop picking a scab (literally or figuratively), it will heal on its own. When we stop focusing on the things that make us feel bad, we start to feel better!
No, the results aren't generally instantaneous. A scab won't disappear right before your eyes, in a matter of seconds. A broken arm won't be as good as new after a few minutes of not lifting it. And a cloud of chronic depression, anger, or low self-esteem isn't likely to lift all at once. But the healing process can begin right away — starting from the moment you stop demonstrating and reinforcing your pain.
And how do you know that the process is working? You start to feel better!
…
Have you ever kept thinking, saying, or doing things that consistently hurt you? Have you stopped? If so, have you started to feel better? Or, if you're still doing something that hurts, would you be willing to stop? After all, you've got nothing to lose…except the pain!