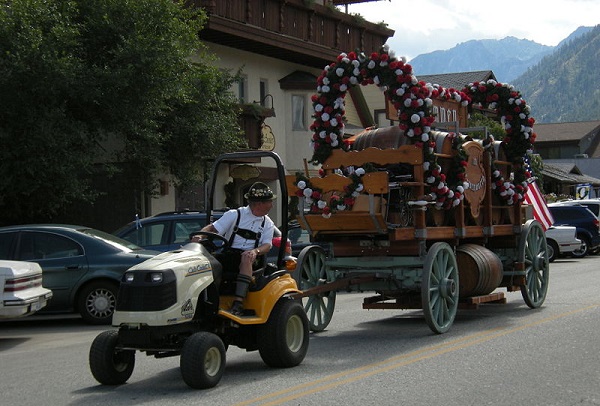 Moving to a new place (literally or figuratively) can be very exciting: you feel a sense of adventure, new possibilities, and a fresh start.
But once the initial excitement fades (or perhaps even sooner), you might begin to feel disconcerted or uncomfortable.
After all, this new territory is totally unfamiliar. You don't know your way around. You get lost just trying to find the grocery store. You don't know where the nearest gas station is. You don't even have a library card.
The people here have strange customs and strong accents — and they use unfamiliar jargon, regional slang, or even a different language altogether. Half the time, you're not even sure what they're saying or doing.
Even your new home can feel strange and uncomfortable.  At night, you fumble around trying to find the light switch. You feel like a guest in someone else's house. And although it might be a very nice house, it doesn't feel like HOME.
You might find yourself wondering: Was this move even worth it? Should I just pack up and go back to where I came from?
After all, even if you moved out of a bad neighborhood, a bad situation, or a place that you had simply outgrown — at least it was familiar. It was comfortable.
It was the known.
This experience doesn't just apply to physical moves.
You might feel this way when you're moving into a new relationship (or leaving an old one). You might feel this way when beginning a new job (or leaving an old one). You might feel this way as you begin to pursue new interests, new spiritual practices, or a new lifestyle.
You might feel this way even when nothing in your external life changes — when you sense a shift in how you see the world, where you are in your life, or WHO you are.
When this is the case, what changes isn't necessarily the world around you but how you experience it. You might find that old sources of comfort no longer appeal to you. And you might feel drawn to new areas — figuratively or perhaps even literally in the sense of an actual move.
And, as you've likely experienced in your own life, when you make a move of any kind, not everyone is going to move with you. Other people might not understand your desire to change. They might feel threatened. They might wonder why you didn't just keep living in the same place and doing the same things you'd always done.
(And you might find yourself wondering the same thing!)
Yes, inner and/or outer changes can be exciting or even exhilarating, but they can also be scary and disconcerting. No matter how appealing the new home (or experience or life) may be or how unappealing the old one may have been, you still might find that part of you wants to scurry back to the safety of the tried-and-true…or even the "tried-and-false"!
If you find yourself in this sort of situation in any area of your life, it can be helpful to remember three things:
WHY you moved/changed. You probably didn't just pick up and make a major change in your life (job, relationship, a literal move, or any other upheaval) without having a very good reason for it. If you're feeling growing pains or generally second-guessing your decision, it can be good to tap back into that positive sense of excitement and possibility (and/or negative impetus for leaving your old situation) that created the desire for something different in the first place.
What feels strange and uncomfortable now will soon become your "new normal." It might take a few weeks, a few months, or longer, but this new stage of your life will begin to feel natural, comfortable, and homey. It will feel like you.
You already have friends in this new place. You don't have to go it alone while you're moving and settling into your new home! Even if you don't know it yet, there's an entire community of like-minded people who would LOVE to welcome you to this new stage of your life, get to know you (not just who you've been but who you're becoming — the newly emerging you), and support you during your time of transition…and beyond. Many of them have made a similar transition in their own lives, so they'll be able to relate — and probably even benefit from hearing about your experience.
In the past month, I've witnessed so many instances of these sorts of connections, new friendships, and new support systems — in the just-opened Soulful Life Sanctuary and elsewhere — as people in the midst of significant changes welcome and support one another. It's so beautiful to see people who thought that they had to struggle in solitude actually feeling loved, understood, and supported.
It's almost like having a Welcome Wagon when you move into a new town — a gift basket of maps, coupons, and goodies brought right to your doorstep. Or like having friendly neighbors introduce themselves, offer to show you around, help you get acclimated, or just invite you over for a chat.
(Or, if you're lucky, maybe even bring you a homemade pie!)
If you're feeling called to move to a new stage of life or finding yourself in unfamiliar territory, I'd love for the sanctuary to be your Welcome Wagon. But even more than that, I'd love for you to know that you're not alone. Friendship and support are always waiting for you. Sometimes they show up on your doorstep (or in your inbox) and sometimes you have to spend some time looking for them, but you've always got "neighbors" who would love to show you around this new place, offer friendship, and help you feel at home.
And before too long, you'll wonder how you ever lived anywhere else.
…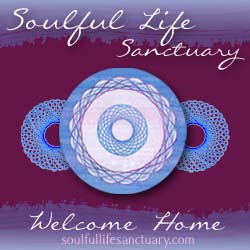 P.S. If you're moving into new territory — in terms of personal growth, spirituality, or any other area of your life — I hope you'll check out the Soulful Life Sanctuary. In addition to a vast array of resources, you'll be instantly connected with over 100 like-minded souls who are just waiting to support you, nourish you, and welcome you home!
Sign up before August 1, and receive a $50 discount + over $800 in bonus gifts!
Click here for details.