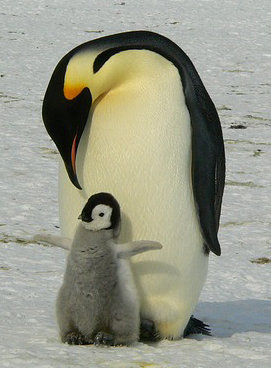 As ludicrous as it might sound, what if your friend told you that they wanted to "solve" the South Pole? (And no, they weren't talking about global warming — and no, they're not a penguin.) Imagine the ridiculous conversation you might have:
Friend: I've got a big problem: Every year I go to the South Pole, and I always get really cold — even if I bundle up in the warmest clothes I have.
You: Well, then just don't go there!
Friend: But that doesn't solve the problem! That's just avoidance!
You: Exactly! I think that you should avoid going to the South Pole! Maybe instead, you could go somewhere warmer, like a tropical beach.
Friend: But I always go to the South Pole. That's my yearly tradition, and I intend to keep going!
You: Then you're going to be cold.
Friend: But I don't want to be! I already told you — that's the problem I want to solve! Don't you understand?
You: I guess not.
…
And, fortunately, neither do I.
I don't understand why so many people try to get to the bottom of issues, unravel dilemmas, and solve problems  when they could simply NOT GO THERE!
(In fact, I don't understand why so many people see so many situations as "problems" to begin with — as opposed to simply "what is" — but that's a whole other blog post.)
Yes, some problems can be solved: A toothache can often be fixed with a shot of Novocain and perhaps a filling. A true emergency can often be solved by dialing 911. And a remarkably high percentage of non-emergency problems can be solved by typing a few words into Google.
But then there's a whole other category of perceived "problems" that aren't necessarily problems at all — they're just situations that you don't particularly like. And while some of them can be changed, many of them can't (such as the weather).
As the Serenity Prayer suggests, you can learn to accept the things you can't change, but you also have another option: shift your focus. Go somewhere else (somewhere "warmer")!
The South-Pole scenario is intentionally ludicrous, but it's often just as nonsensical (and ineffective) to try to change perceived problems when you could simply not go there. After all, as with literal travel, there are so many other (and more enjoyable) places that you could go.
In many cases, perceived problems can't be "fixed" (because they're not really problems to begin with), but even if you could fix them, this would often entail spending years in the "South Pole," so to speak — in other words, it would mean spending your precious time and energy focusing on something that you don't like.
And when you do this, Law of Attraction brings you even more situations that you don't like. So not only do you not "fix" anything, but you have a terrible time while you're trying — and you miss out on all the great places where you'd much rather be spending your time!
As I said earlier, I'm not saying that problems don't exist or that you shouldn't try to improve your situation. (There are toothaches and computer viruses in this world!) But before you go trying to make massive changes, ask yourself a few basic questions:
Is this really a problem?
If so, can it be changed?
If so, how can I focus on the solution rather than the problem?
And if the external situation can't be changed, how can I feel better about it? (For instance, most non-Arctic cold can be "fixed" by putting on a coat.)
But before you try to "fix" anything (including yourself), consider that you may not have to — if you simply choose to direct your attention, your action, and your energy onto something positive. Not only will this be a much more fruitful use of your time, but you'll attract even more positive experiences.
And in the meantime, you'll enjoy your life!
…
Have you been mentally "traveling" to problematic areas? If so, would you consider changing your itinerary and spending your time in more appealing places? Remember, while you don't always have the power to change externals, you can always choose your own focus — and you've got a whole world full of positive options to choose from!